Young Adult Ministry
The Young Adult Ministry at St. Mary Church aims to organize activities which minister to the young adults of our community, those aged 18 - 40. Check out the following activities and programs that we have planned:
Spring 2017 Events @ St. Mary Church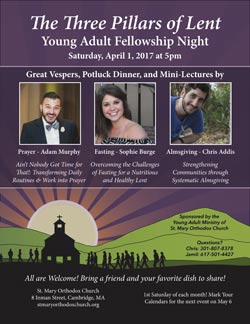 You are invited to join us this Spring for a new year of great activities and events for our College Students and Young Adults!
Diocesan Young Adult Fellowship Nights at St. Mary's
Add these dates to your calendar and don't miss out on gathering with young adults from our community and around the greater Boston area for worship, fellowship, food, and fun at our parish! Each evening begins with Great Vespers at 5pm!
Saturday, February 4 (Trivia Night!)
Saturday, March 4 (Dinner only)
Saturday, April 1 (The Three Pillars of Lent Mini-Lectures)
Saturday, May 6 (Day of Service)
Saturday, June 3 (Pentecost Celebration)
To learn more or to get involved, email us at youngadults@stmaryorthodoxchurch.org or call/text Jamil (617-501-4427)