Stewardship Committee
As we kick off our 2020 Stewardship Pledge Drive, we urge you to take the time to think carefully and pray about your annual contributions to St. Mary's. As always, we are asking you to make a financial commitment to St. Mary's for the coming year. But for the first time, we are asking you to pledge your time and talents as well in whatever way you can best help our parish. Your generosity allows our wonderful parish to fulfill its Christian Ministry year after year.
Once you've filled out the pledge form, we encourage you to use the eGive system for your annual pledge. You may also contact Charlie Marge, our Stewardship Committee Chairperson for more information. If you need help with eGive, download the registration instructions.
Pledge Card 2020
Print and Mail
If you prefer to send in a physical copy of the pledge card, click below to open a PDF version of the pledge card. Then, print it, fill it out, and send it to the parish at 8 Inman Street, Cambridge, MA 02139.
"We come to you every year with an appeal to sign a new pledge card, to increase your giving if you can and to join the parish and give if you have not yet done so. It is obvious that the more we give of our financial means the more we can accomplish as a community. Please consider acknowledging this appeal with a generous pledge to give a percentage of your income so that St. Mary's can expand her ministry and broaden her outreach."
-- Fr. Antony Hughes
A New Pledge Card with an Expanded Emphasis
"We also know that our programs depend on the participation of our people. Therefore, we ask that you also consider the importance of participating in the ministries and programs of St. Mary's with your attendance, time and talent."
-- Fr. Antony Hughes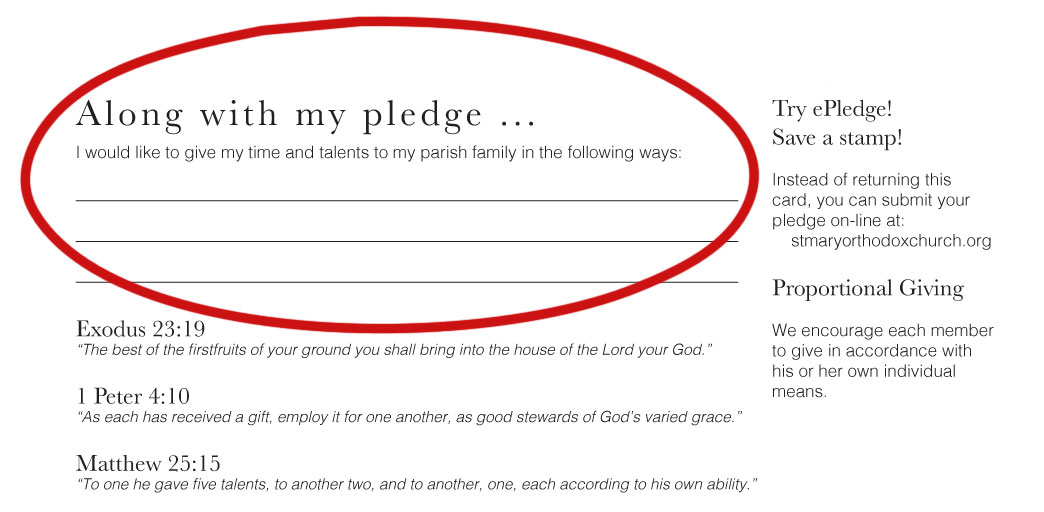 Need some ideas as to how you can help? See the insert that came with your pledge card!

As always, thank you for your generous support of our parish community.