Weekly E-mail Newsletter

Subscribe to our weekly parish email newsletter »
See the latest announcements »

Please consider a donation to St. Mary's Church to help support the ministries and work of our community. Donate now ».
Spiritual Quotes
"When your intellect in its great longing for God gradually withdraws from the flesh and turns away from all thoughts that have their source in your sense-perception, memory or soul[mind]-body temperament, and when it becomes full of reverence and joy, then you may conclude that you are close to the frontiers of prayer [meditation].
- Evagrius "On Prayer [Meditation]" from The Philokalia Vol. 1
Upcoming Services and Events
Great Vespers
November 1, 2014 5 pm
Orthros
November 2, 2014 8:45 am
Divine Liturgy
November 2, 2014 10 am
Bible Study
November 6, 2014 7 pm
Great Vespers
November 8, 2014 5 pm
Orthros
November 9, 2014 8:45 am
Divine Liturgy
November 9, 2014 10 am
Service Schedule and Calendar

Sunday Orthros - 8:45 am
Sunday Divine Liturgy - 10:00 am
Great Vespers - Saturdays 5:00 pm
Confessions - Saturdays 6:00 pm or by appointment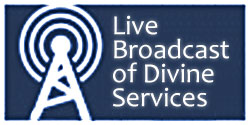 If you are unable to attend in person, consider tuning in to our live broadcasts! See More »
Latest News
October 23, 2014 -
The Enthronement of His Eminence Metropolitan Joseph and related events will take place during the weekend of December 5 through 7, 2014, at St. Nicholas Cathedral in Brooklyn, New York. We will be greatly blessed by the presence of His Beatitude John X, Patriarch of Antioch and All the East, who will preside during this weekend.
Read more »
October 26, 2014 - by Fr. Antony Hughes
When there is a storm at sea the surface of the water is troubled, wild and dangerous. But in the bottom of the sea what is there? There is peace. The storms cannot touch the deep. The soul is like the depth of the sea. It is undisturbed and peaceful, a still point in the midst of everything.
Read more »
October 19, 2014 - by Fr. Antony Hughes
The miracle he performs is not to demonstrate his power, but to heal the widow's broken heart. God is not interested in power. He does not need to prove himself. The thing he wants us to know is that he cares for all of us personally in every detail of life.
Read more »

Read more sermons
from St. Mary Church »
---
We are a parish in the Diocese of Worcester of the Antiochian Orthodox Christian Archdiocese of North America.
Patriarch John X of Antioch | Metropolitan Joseph, Primate | Bishop John, Auxiliary Bishop
Very Rev. Father Antony Hughes, Pastor | Rev. Deacon Jeffrey Smith, Deacon