Make your 2016 Stewardship pledge today! »
Weekly E-mail Newsletter

Subscribe to our weekly parish email newsletter »
See the latest announcements »

Please consider a donation to St. Mary's Church to help support the ministries and work of our community. Donate now ».
Spiritual Quotes
"When you reach a state of harmony within yourself and become friends with yourself, then, simultaneously, your environment, Heaven and Earth, will become your friends. For such a person there are no enemies, no 'impure' people. Everything is pure to those who are pure."
"Do you realize that our best friend is ourselves? We don't have a closer and more intimate friend than ourselves…So the first person you must befriend is yourself. You will then be able to see yourself with great love and compassion."

- Fr. Maximos quoted in THE INNER RIVER
Upcoming Services and Events
Friday, August 5
6:30 pm
Vespers/ Divine Liturgy for Feast of Transfiguration
Wednesday, August 10
6:30 pm
Paraclesis for the Dormition
Service Schedule and Calendar

Sunday Orthros - 8:45 am
Sunday Divine Liturgy - 10:00 am
Great Vespers - Saturdays 5:00 pm
Confessions - Saturdays 6:00 pm or by appointment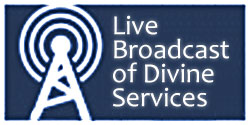 If you are unable to attend in person, consider tuning in to our live broadcasts! See More »
May 08, 2016 - by Teva Regule
So, why does Thomas, who had been a close friend and follower of Jesus, doubt the witness of his friends? He wants direct proof - not only seeing, but also touching the wounds of Jesus.
Read more »
April 14, 2016 - by Fr. Antony Hughes
The little boy's seizure in today's story represents any condition we may have that hinders our ability to love God, neighbor and self completely. Removing all internal obstacles to love is the point of spiritual practice. What we do not know about ourselves enslaves us. What lies hidden in us will eventually come to light. We are all wounded. We carry with us great burdens of pain from which we need to be released.
Read more »

Read more sermons
from St. Mary Church »