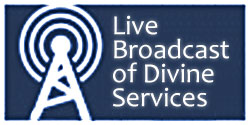 If you are unable to attend in person, consider tuning in to our live broadcasts! See More »
Articles and Video on the Faith

Make your 2016 Stewardship pledge today! »
Weekly E-mail Newsletter

Subscribe to our weekly parish email newsletter »
See the latest announcements »

Please consider a donation to St. Mary's Church to help support the ministries and work of our community. Donate now ».
Spiritual Quotes
"The soul leaves all surface appearances, not only those that can be grasped by the senses but also those which the mind itself seems to see, and it keeps going deeper until by the operation of the spirit it penetrates the invisible and incomprehensible, and it is there that it sees God. The true vision and the true knowledge of what we seek consists precisely in not seeing, in an awareness that our goal transcends all knowledge...
- St. Gregory of Nyssa
Upcoming Services and Events
Monday, October 24
Women's Club- Dinner @ Cheesecake Factory
Wednesday, November 2
7:30 pm
Parish Council Meeting
Saturday, November 5
6 pm
Young Adult Fellowship Night
Friday, November 11
12:30 pm
Fall Liturgical Retreat
Service Schedule and Calendar

Sunday Orthros - 8:45 am
Sunday Divine Liturgy - 10:00 am
Great Vespers - Saturdays 5:00 pm
Confessions - Saturdays 6:00 pm or by appointment
October 09, 2016 - by Fr. Antony Hughes
The Gospel this morning shows Christ wading into the suffering of the world outside the gates of the little town of Nain. He meets the deep, wrenching sorrow of the widow head-on without flinching. His presence reveals the presence of the kingdom, the power of God in the world of human suffering. The Incarnation encompasses all things.
Read more »
September 24, 2016 -
In these times of turmoil, the Church must be the place of peace and refuge for all people no matter who they are or where they come from. It is not our job to judge whether or not someone is worthy of our lovingkindness.
Read more »

Read more sermons
from St. Mary Church »