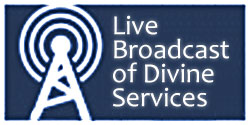 If you are unable to attend in person, consider tuning in to our live broadcasts! See More »
---

Make your 2017 Stewardship pledge today! »
Weekly E-mail Newsletter

Subscribe to our weekly parish email newsletter »
See the latest announcements »

Please consider a donation to St. Mary's Church to help support the ministries and work of our community. Donate now ».
Spiritual Quotes
"The Trinity -- and it's generative effect, love -- is the true 'theory of everything.' Everybody is searching for this unifying theory lately. Triune love, it seems to me, is the resolution piece that helps us understand, to let go, and stand secure in the world..."
- Rohr and Morrell, from THE DIVINE DANCE
Upcoming Services and Events
Monday, May 29
9 am
Blessing of the Graves- Fairview Cemetary
Saturday, June 3
6 pm
Young Adult Fellowship Night
Sunday, June 4
11:30 am
Church School Recognition
12 pm
Chinese Martyrs Bkfst
Service Schedule and Calendar

Sunday Orthros - 8:45 am
Sunday Divine Liturgy - 10:00 am
Great Vespers - Saturdays 5:00 pm
Confessions - Saturdays 6:00 pm or by appointment
May 14, 2017 - by Fr. Antony Hughes
The thing that is revealed by Jesus to Photeini is that the temple of God is not a building, a city, a mountain or a shrine or even a religion. The temple of God is the human person. Paul says it. 'Do you not know that your body is the temple of the Holy Spirit?' How does Jesus say it? 'Jesus breathed on them and said, 'Receive the Holy Spirit.''
Read more »
May 07, 2017 - by Fr. Antony Hughes
We are transformed by the company we keep. This is obvious. If the company we keep is evil, then we tend to become evil, if it is good, then we tend to become good. What if the company we keep is God? What if we learn how to enter our hearts where his kingdom is, and we discover that the Holy Trinity is there, and we allow ourselves to spend more and more time with him in that sacred, internal place, what then?
Read more »

Read more sermons
from St. Mary Church »