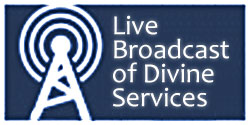 If you are unable to attend in person, consider tuning in to our live broadcasts! See More »
Articles and Video on the Faith

Make your 2016 Stewardship pledge today! »
Weekly E-mail Newsletter

Subscribe to our weekly parish email newsletter »
See the latest announcements »

Please consider a donation to St. Mary's Church to help support the ministries and work of our community. Donate now ».
Spiritual Quotes
Our real journey in life is interior;
It is a matter of growth, deepening,
and of an ever greater surrender
to the creative action of love and grace
in our hearts.
Never was it more necessary to respond
to that action.
- Thomas Merton
Upcoming Services and Events
Saturday, October 1
6 pm
Young Adult Fellowship Night
Sunday, October 2
11:30 am
Women's Club Bake Sale
Service Schedule and Calendar

Sunday Orthros - 8:45 am
Sunday Divine Liturgy - 10:00 am
Great Vespers - Saturdays 5:00 pm
Confessions - Saturdays 6:00 pm or by appointment
September 18, 2016 - by Fr. Antony Hughes
Holy Orthodoxy has a vision of human nature than is unrelentingly positive. This vision originates in the biblical reference from Genesis 1:26, 'Let us make man in our image, after our likeness.' Because this is so, to know the truth of who we are, is to know God.
Read more »
September 24, 2016 -
In these times of turmoil, the Church must be the place of peace and refuge for all people no matter who they are or where they come from. It is not our job to judge whether or not someone is worthy of our lovingkindness.
Read more »

Read more sermons
from St. Mary Church »