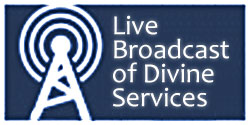 If you are unable to attend in person, consider tuning in to our live broadcasts! See More »
---
Special Announcements and Upcoming Events

Make your 2017 Stewardship pledge today! »
Weekly E-mail Newsletter

Subscribe to our weekly parish email newsletter »
See the latest announcements »

Please consider a donation to St. Mary's Church to help support the ministries and work of our community. Donate now ».
Spiritual Quotes
Whenever we're led out of normalcy into sacred, open space, it's going to feel like suffering, because it is letting go of what we're used to. This is always painful at some level. But part of us has to die if we are ever to grow larger (John 12:24). If we're not willing to let go and die to our small, false self, we won't enter into any new or sacred space.
- Richard Rohr
Upcoming Services and Events
Sunday, October 1
11:30 am
Women's Club Bake Sale
12 pm
Young Adult Apple picking
Saturday, October 7
3:30 pm
Chant Class/Rehearsal
6 pm
Young Adult Fellowship Night
Service Schedule and Calendar

Sunday Orthros - 8:45 am
Sunday Divine Liturgy - 10:00 am
Great Vespers - 1st Saturday of the Month 5:00 pm
Confessions - By appointment
September 03, 2017 - by Fr. Antony Hughes
There is always a danger that we will try and use Jesus for our personal gain. You see it all the time on television – Christianity as a way to make money or gain power and notoriety. It is shameful of course and frightening the way so many people fall for it. We must be careful that we do not fall ourselves into such obvious corruption. Those who practice the way of using Christianity for egoic self-interest clearly do not know the Jesus they claim to represent.
Read more »
August 27, 2017 - by Fr. Antony Hughes
The Rich Man could not yet let of his riches. The question is, what 'riches' are we holding onto so tightly that we too could not pass through the eye of a needle and into the kingdom of heaven? I'm not going to try and make a list of all the passages that speak of this. One of them that comes to mind is that we must love God more than father, mother, sister, brother, etc. If you think a little, I'm sure you could come up with several more.
Read more »

Read more sermons
from St. Mary Church »