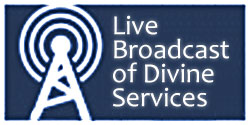 If you are unable to attend in person, consider tuning in to our live broadcasts! See More »
---

Make your 2017 Stewardship pledge today! »
Weekly E-mail Newsletter

Subscribe to our weekly parish email newsletter »
See the latest announcements »

Please consider a donation to St. Mary's Church to help support the ministries and work of our community. Donate now ».
Spiritual Quotes
"The Trinity -- and it's generative effect, love -- is the true 'theory of everything.' Everybody is searching for this unifying theory lately. Triune love, it seems to me, is the resolution piece that helps us understand, to let go, and stand secure in the world..."
- Rohr and Morrell, from THE DIVINE DANCE
Upcoming Services and Events
Service Schedule and Calendar

Sunday Orthros - 8:45 am
Sunday Divine Liturgy - 10:00 am
Great Vespers - Saturdays 5:00 pm
Confessions - Saturdays 6:00 pm or by appointment
June 11, 2017 - by Fr. Antony Hughes
The eternal Word of God that is Jesus, the Christ, can only be known and therefore acknowledged when we enter into a direct, personal and intimate communion with him. And then we discover that what we came to know cannot be communicated in words, but only through being.
Read more »
May 28, 2017 - by Fr. Antony Hughes
The Lord seems grounded and focused as he prays this long discourse-like prayer on the eve of his passion. When you might expect that fear and anxiety would distract him and overwhelm him, they don't. He seems to be utterly non-resistant to the fear he must have been feeling and to the fate that waited for him. That doesn't mean that he didn't feel it. The picture John paints is of prayer in the midst of almost unspeakable anguish.
Read more »

Read more sermons
from St. Mary Church »