Weekly E-mail Newsletter

Subscribe to our weekly parish email newsletter »
See the latest announcements »

Please consider a donation to St. Mary's Church to help support the ministries and work of our community. Donate now ».
Spiritual Quotes
Finally, the importance of apophatic...theology, underlining the mystery and transcendence of God even while affirming the divine presence and immanence, dictates a reluctance to define or pontificate on matters of ethical importance. The deeper conviction always is that the truth can never be objectified or exhausted, while each human person is also uniquely created in the image of God, never able to be reduced to anything less than a mystery.
- Ecumenical Patriarch Bartholomew

Make your 2015 Stewardship pledge today! »
Upcoming Services and Events
Wednesday, March 4
6:30 pm
Pre-Sanctified Liturgy followed by pot luck
Saturday, March 7
10 am
Marriage Preparation and Enrichment
Diocese of Worcester Chancery
Sunday, March 8
11:30 am
Lenten Food Sale Order Deadline
Monday, March 9
7 pm
Great Compline
St. John of Damascus Church in Dedham
Wednesday, March 11
6:30 pm
Pre-Sanctified Liturgy followed by pot luck
Saturday, March 14
9 am
Cooking Spinach Triangles
Service Schedule and Calendar

Sunday Orthros - 8:45 am
Sunday Divine Liturgy - 10:00 am
Great Vespers - Saturdays 5:00 pm
Confessions - Saturdays 6:00 pm or by appointment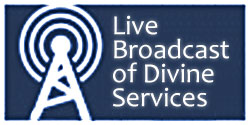 If you are unable to attend in person, consider tuning in to our live broadcasts! See More »
Throughout the Paschal Lenten Period leading up to Holy Pascha (Easter), we have an opportunity to attend special services every day in the first week of Lent and each subsequent Wednesday and Friday evenings. Here's a brief explanation of these services in the hopes that you will join us (either in person or online!) and make more meaningful your Lenten journey!
Read more »
Our women will be reading the Epistle (1 woman), taking the Collection each Sunday (2 women) and assisting during Communion (6 women). We are inviting all Women of St. Mary Church to be included: If you wish to participate, sign-up on the sheet at the Bengarri or contact Mary Ellen at 781-729-6303 or the church office at 617-547-1234 or e-mail secretary@stmaryorthodoxchurch.org.
Read more »
February 25, 2015 - by Fr. Antony Hughes
Today we are reminded that we must be forgiving. Forgiveness is a radical thing indeed! He asks us to forgive when it is easy and when it is not. He asks us to forgive our love ones and also our enemies. He asks us to turn aside from all thoughts of anger and revenge and take the highest possible road, the narrow road of absolute, unconditional love.
Read more »

Read more sermons
from St. Mary Church »
---
We are a parish in the Diocese of Worcester of the Antiochian Orthodox Christian Archdiocese of North America.
Patriarch John X of Antioch | Metropolitan Joseph, Primate | Bishop John, Auxiliary Bishop
Very Rev. Father Antony Hughes, Pastor | Rev. Deacon Jeffrey Smith, Deacon