Weekly E-mail Newsletter

Subscribe to our weekly parish email newsletter »
See the latest announcements »

Please consider a donation to St. Mary's Church to help support the ministries and work of our community. Donate now ».
Spiritual Quotes
Christianity without compassion is only a religion and religion without compassion, as we have seen over and over again in history, and are seeing now in living color on our television sets, gives birth to the greatest of evils.
- Fr. Antony
You may call God love, you may call God goodness. But the best name for God is compassion.
- Meister Eckhart
Jesus is ideal and wonderful, but you Christians - you are not like him.
- Mahatma Gandhi
Upcoming Services and Events
Orthros
August 24, 2014 8:15 am
Divine Liturgy
August 24, 2014 9:30 am
Parish Council Meeting
August 27, 2014 7:45 pm
Bible Study
August 28, 2014 7 pm
Great Vespers
August 30, 2014 5 pm
Regular Hours Resume
August 31, 2014
Orthros
August 31, 2014 8:45 am
Service Schedule and Calendar

Summer Hours!
Sunday Orthros - 8:15 am
Sunday Divine Liturgy - 9:30 am
Great Vespers - Saturdays 5:00 pm
Confessions - Saturdays 6:00 pm or by appointment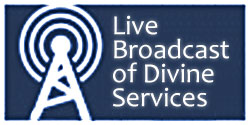 If you are unable to attend in person, consider tuning in to our live broadcasts! See More »
August 17, 2014 - by Fr. Antony Hughes
I do know that there are other kinds of mountains that do need to be moved. They are inside of us. These are those interior hindrances to love (and to faith) that Rumi writes about.
Read more »
August 10, 2014 - by Fr. Antony Hughes
The month of August is a month of theophanies. A theophany, from the Greek, literally means a 'revelation of God', not 'from God', but 'of God.' The Transfiguration of Jesus is a theophany. God reveals himself present in Jesus Christ in this world. He shares his light and energy with us and with all of creation as his face, his clothes, the mountain and even the apostles are bathed in light and cloud.
Read more »

Read more sermons
from St. Mary Church »
---
We are a parish in the Diocese of Worcester of the Antiochian Orthodox Christian Archdiocese of North America.
Patriarch John X of Antioch | Metropolitan Joseph, Primate | Bishop John, Auxiliary Bishop
Very Rev. Father Antony Hughes, Pastor | Rev. Deacon Jeffrey Smith, Deacon