Make your 2015 Stewardship pledge today! »
Weekly E-mail Newsletter

Subscribe to our weekly parish email newsletter »
See the latest announcements »

Please consider a donation to St. Mary's Church to help support the ministries and work of our community. Donate now ».
Spiritual Quotes
Benedict of Nuria teaches that the "Fear of God is always before our eyes." We are to come to see the beauty and glory of God everywhere. Then, bowing down before it in our hearts, we will live in its aura. In us, around us, before us -- this awareness of God is a slowly consuming process. But an ever clearer one. So the seeker's life is a gradual sinking into the consciousness of God...
- Sister Joan Chittister
Upcoming Services and Events
Tuesday, September 8
Nativity of the Theotokos
Sunday, September 13
11:30 am
Welcome Back Breakfast
11:30 am
Church School Registration
Monday, September 14
7:30 pm
Women's Club Meeting
Service Schedule and Calendar

Sunday Orthros - 8:45 am
Sunday Divine Liturgy - 10:00 am
Great Vespers - Saturdays 5:00 pm
Confessions - Saturdays 6:00 pm or by appointment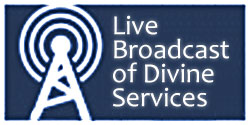 If you are unable to attend in person, consider tuning in to our live broadcasts! See More »
Special Announcements
August 26, 2015
One thing we can all do for Fr. Antony is pray for his good health and speedy recovery. In that spirit, we will have an opportunity to do that as a community this FRIDAY, August 28, at 7pm. Fr. Ed Hughes will be serving a Paraklesis Service for Fr. Antony at St. Mary Church in Cambridge, MA.
Read more »
August 23, 2015 - by Fr. Nicholas Manikas
What is the one thing that keeps you from coming close to God? What vice or fault is keeping you away? The rich man in today's Gospel refused Christ's challenge. He heard it, turned around, and then went home. He didn't take the challenge; he was not willing to take the risk. He decided to remain in the familiar surrounding of his own obsession.
Read more »
August 16, 2015 - by Fr. Antony Hughes
The king in the Lord's story is more like us than he is like God. He is merciful at first and then later on and at the point the majority of us would cheer as the evil servant gets what's coming to him, a vengeful part takes over. So, instead of being like God the Always Compassionate, the king here is more like me, the sometimes compassionate.
Read more »

Read more sermons
from St. Mary Church »