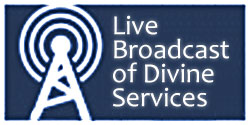 If you are unable to attend in person, consider tuning in to our live broadcasts! See More »
December 05, 2016
Please consider a donation to the Cambridge Mayor's Fire Relief Fund to assist our neighbors who are affected by the fire that occurred in East Cambridge on Saturday, December 3, 2016.
Read more »

Make your 2016 Stewardship pledge today! »
Weekly E-mail Newsletter

Subscribe to our weekly parish email newsletter »
See the latest announcements »

Please consider a donation to St. Mary's Church to help support the ministries and work of our community. Donate now ».
Spiritual Quotes
"The soul leaves all surface appearances, not only those that can be grasped by the senses but also those which the mind itself seems to see, and it keeps going deeper until by the operation of the spirit it penetrates the invisible and incomprehensible, and it is there that it sees God. The true vision and the true knowledge of what we seek consists precisely in not seeing, in an awareness that our goal transcends all knowledge...
- St. Gregory of Nyssa
Upcoming Services and Events
Sunday, December 11
Nativity Donations Deadline
Wednesday, December 14
7:30 pm
Parish Council Meeting
Saturday, December 17
2:30 pm
Christmas Pageant Dress Rehearsal
Sunday, December 18
11:45 am
Christmas Pageant
Service Schedule and Calendar

Sunday Orthros - 8:45 am
Sunday Divine Liturgy - 10:00 am
Great Vespers - Saturdays 5:00 pm
Confessions - Saturdays 6:00 pm or by appointment
November 20, 2016 - by Fr. Antony Hughes
We like to create Christ in our own image; a Christ to justify our lives, who thinks and acts like us, who doesn't challenge our assumptions and certainly doesn't question us or disagree with us or demand anything of us. In other words, a Christ we can ignore. So, how do we know who he really is? How do we come to truly know Him as He is?
Read more »
November 01, 2016 -
It is news to no one that life is filled with happiness and disappointment. We cannot expect that what happens will always please us. Light and darkness, good and bad, joy and sorrow are not really opposites; they are interwoven in the fabric of life. This we know if we think about it.
Read more »

Read more sermons
from St. Mary Church »