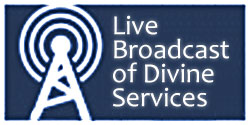 If you are unable to attend in person, consider tuning in to our live broadcasts! See More »
---
Special Announcements and Upcoming Events

Make your 2017 Stewardship pledge today! »
Weekly E-mail Newsletter

Subscribe to our weekly parish email newsletter »
See the latest announcements »

Please consider a donation to St. Mary's Church to help support the ministries and work of our community. Donate now ».
Spiritual Quotes
Whenever we're led out of normalcy into sacred, open space, it's going to feel like suffering, because it is letting go of what we're used to. This is always painful at some level. But part of us has to die if we are ever to grow larger (John 12:24). If we're not willing to let go and die to our small, false self, we won't enter into any new or sacred space.
- Richard Rohr
Upcoming Services and Events
Thursday, September 7
6:30 pm
Divine Liturgy for the Feast of the Nativity of the Theotokos
Friday, September 8
Nativity of the Theotokos
Sunday, September 10
Church School Registration
Service Schedule and Calendar

Sunday Orthros - 8:45 am
Sunday Divine Liturgy - 10:00 am
Great Vespers - Saturdays 5:00 pm
Confessions - Saturdays 6:00 pm or by appointment
August 13, 2017 - by Fr. Antony Hughes
The eternal truth, so ignored by so many these days, is that faith does not lead to power but to humility. The Lord said it this way, 'My grace is sufficient for you, for my power is made perfect in weakness.' In our humility, our weakness, our powerlessness, our emptiness, the power of God moves mountains.
Read more »
August 06, 2017 - by Fr. Antony Hughes
So, Trinitarian spirituality begins where we do not like to begin: shrouded in impenetrable mystery and luminous awe. Every Theophany has this effect on the human mind. Through them God breaks down all the barriers that the mind loves to create. Every Theophany has the purpose of helping us begin to obey the first commandment of Jesus in his first sermon in Mark's Gospel: change your mind, repent.
Read more »

Read more sermons
from St. Mary Church »