Make your 2016 Stewardship pledge today! »
Weekly E-mail Newsletter

Subscribe to our weekly parish email newsletter »
See the latest announcements »

Please consider a donation to St. Mary's Church to help support the ministries and work of our community. Donate now ».
Spiritual Quotes
"Everything will eventually settle into order, but if we keep just endlessly reiterating what has been said long ago, more and more people will drift away from their faith...not because everything that was stated before is erroneous, but because the approach and language being used are all wrong. Today's people and the time they live in are different; today we think differently. I believe one must become rooted in God and not be afraid of thinking and feeling freely."
From The Wheel, "The Problem of Fear, A Reflection on the Words of Metropolitan Anthony of Sourozh", issue 4, Winter 2016
Upcoming Services and Events
Wednesday, February 17
7:30 pm
Parish Council Meeting
Sunday, February 21
11:30 am
Chinese New Year Breakfast
Service Schedule and Calendar

Sunday Orthros - 8:45 am
Sunday Divine Liturgy - 10:00 am
Great Vespers - Saturdays 5:00 pm
Confessions - Saturdays 6:00 pm or by appointment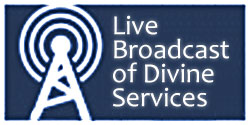 If you are unable to attend in person, consider tuning in to our live broadcasts! See More »
January 31, 2016 - by Fr. Antony Hughes
Jesus calls Zaccheus out of his tree as a compassionate care-giver, not as a judge. Jesus discerns that Zaccheus is open and in need of mercy and without hesitation, Jesus gives it in abundance. Zaccheus learned from Jesus what we are supposed to be learning: love is truth, love is joy, love is the doorway to wisdom, love is life, love is the food of immortality, love is the kingdom of heaven.
Read more »
January 17, 2016 - by Fr. Antony Hughes
The Gospel is a call to universal and unequivocal compassion. The life of Christ and his teachings are about doing good and being kind and bringing light into dark places. In the beginning Christianity was known as a religion of love.
Read more »

Read more sermons
from St. Mary Church »