Weekly E-mail Newsletter

Subscribe to our weekly parish email newsletter »
See the latest announcements »

Please consider a donation to St. Mary's Church to help support the ministries and work of our community. Donate now ».
Spiritual Quotes
"Unconditional" by Jennifer Welwood
Willing to experience aloneness,
I discover connection everywhere;
Turning to face my fear,
I meet the warrior who lives within;
Read the entire poem at the author's website »
Upcoming Services and Events
Service Schedule and Calendar

Sunday Orthros - 8:45 am
Sunday Divine Liturgy - 10:00 am
Great Vespers - Saturdays 5:00 pm
Confessions - Saturdays 6:00 pm or by appointment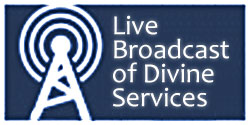 If you are unable to attend in person, consider tuning in to our live broadcasts! See More »
Latest News
October 23, 2014 -
At the enthronement weekend of December 5 through 7, 2014, at St. Nicholas Cathedral in Brooklyn, New York, we will be greatly blessed by the presence of His Beatitude John X, Patriarch of Antioch and All the East.
Read more »
November 09, 2014 - by Fr. Antony Hughes
Something stirred in her, the desire for freedom and from suffering. Isn't repentance in one sense freeing ourselves from the illusion of the past? She began to see that she was more than her past, more than a disease, more than a label.
Read more »
October 26, 2014 - by Fr. Antony Hughes
When there is a storm at sea the surface of the water is troubled, wild and dangerous. But in the bottom of the sea what is there? There is peace. The storms cannot touch the deep. The soul is like the depth of the sea. It is undisturbed and peaceful, a still point in the midst of everything.
Read more »

Read more sermons
from St. Mary Church »
---
We are a parish in the Diocese of Worcester of the Antiochian Orthodox Christian Archdiocese of North America.
Patriarch John X of Antioch | Metropolitan Joseph, Primate | Bishop John, Auxiliary Bishop
Very Rev. Father Antony Hughes, Pastor | Rev. Deacon Jeffrey Smith, Deacon