2015 Diocese Christmas Concert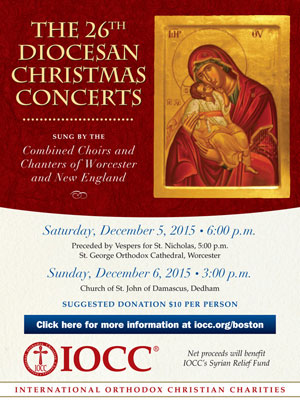 Support IOCC's Syrian Relief Fund and enjoy a wonderful Christmas tradition at the 26th Diocese of Worcester Christmas Concert!
Saturday, December 5 at 6pm at St. George Orthodox Cathedral 30 Anna Street, Worcester, MA (www.stgeorgeworcester.org)
Sunday, December 6 at 3 pm at St. John of Damascus Church 300 West Street, Dedham, MA (www.stjohnd.org)
Sung by the Combined Choirs and Chanters of the Diocese of Worcester and New England. Visit http://iocc.org/boston for more information and to buy tickets!