If you are unable to attend in person, we invite you to tune in to watch our live broadcasts! See More »
---

Growth means change, change of mind and change of heart and we must not fear it. God is infinite. We cannot come to the end of Him nor the end of truth. The creation is filled with mysteries. There is so much we do not know and we must never delude ourselves into thinking we have mastered everything there is to master.
Read more »

Make your 2020 Stewardship pledge today! »

Please consider a donation to St. Mary's Church to help support the ministries and work of our community. Donate now »
Upcoming Services and Events
Service Schedule and Calendar

Sunday Orthros - 8:45 am
Sunday Divine Liturgy - 10:00 am
Great Vespers - Varies (one Saturday each month) 5:00 pm
Confessions - By appointment
Weekly E-mail Newsletter

Subscribe to our weekly parish email newsletter »
See the latest announcements »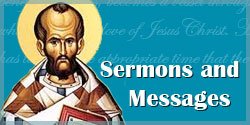 October 18, 2020 - by Fr. Antony Hughes
We are in need of metanoia, brothers and sisters, as persons and as communities, to face squarely and creatively the challenges that face not only us but the world around us. We cannot be yeast in the world unless we are alive to the truth and dynamic in our humility. We cannot be the light of the world unless the light in us is truly light and not darkness. What happens when the salt has lost its flavor? It becomes useless.
Read more »
October 04, 2020 - by Fr. Antony Hughes
The Lord shows no favoritism. He is compassionate towards all, the good and the bad alike, and everyone in-between, which covers everyone I think. So far, in our two readings from Luke's Gospel, we have heard about God's non-discriminatory love.The Lord Jesus teaches us that God bestows lavish nurturing love upon all his creation.
Read more »

Read more sermons
from St. Mary Church »