If you are unable to attend in person, we invite you to tune in to watch our live broadcasts! See More »
---

I want to take this opportunity to give thanks to God and to all of you. I look out and see a strong parish filled with love and devotion. Whether in the physical church building or out of it, we are not and can never be separated from one another.
Read more »
Special Announcements and Upcoming Events
Directives Regarding the Re-Opening of our Parish (May 28, 2020) »
WBUR: A Church Reopens In Cambridge, But Most Members Are Not Ready To Gather »

Make your 2020 Stewardship pledge today! »

Please consider a donation to St. Mary's Church to help support the ministries and work of our community. Donate now »
Quote of the Week
"We cannot face large-scale crises as individuals; we cannot carry the pain of this reality on our own, nor can we only look out for ourselves. The pain is communal and so too must be the response."
- Richard Rohr
Upcoming Services and Events
Wednesday, August 5
6:30 pm
Vesperal Divine Liturgy
Service Schedule and Calendar

Sunday Orthros - 8:45 am
Sunday Divine Liturgy - 10:00 am
Great Vespers - Varies (one Saturday each month) 5:00 pm
Confessions - By appointment
Weekly E-mail Newsletter

Subscribe to our weekly parish email newsletter »
See the latest announcements »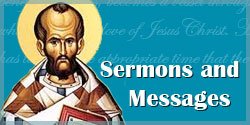 July 05, 2020 - by Fr. Antony Hughes
What does mindfulness, vigilance and watchfulness have to do with the Centurion and his servant's healing? I believe the answer to that lies in the extraordinary nature of the Centurion's faith. He could see things no one else could see; namely what Isaiah the prophet saw, the Lord high and lifted up in the flesh before him. His faith was so extraordinary, in fact, that the Lord was astonished by it. That alone makes it worthy of our mindful attention.
Read more »
June 29, 2020 - by Fr. Antony Hughes
Our interpretation of what we see has everything to do with whether or not the light in us is light or dark. If light, then we will project light and we will see light. If the light in us is darkness, then we will project and see darkness.
Read more »

Read more sermons
from St. Mary Church »