If you are unable to attend in person, we invite you to tune in to watch our live broadcasts! See More »
---

Growth means change, change of mind and change of heart and we must not fear it. God is infinite. We cannot come to the end of Him nor the end of truth. The creation is filled with mysteries. There is so much we do not know and we must never delude ourselves into thinking we have mastered everything there is to master.
Read more »

Make your 2021 Stewardship pledge today! »

Please consider a donation to St. Mary's Church to help support the ministries and work of our community. Donate now »
Upcoming Services and Events
Thursday, December 24
9 am
Royal Hours - Nativity
11 am
Vesperal Liturgy of St Basil
Service Schedule and Calendar

Sunday Orthros - 8:45 am
Sunday Divine Liturgy - 10:00 am
Great Vespers - Varies (one Saturday each month) 5:00 pm
Confessions - By appointment
Weekly E-mail Newsletter

Subscribe to our weekly parish email newsletter »
See the latest announcements »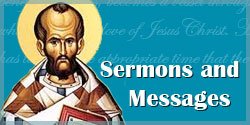 November 08, 2020 - by Fr. Antony Hughes
Today, once again, Jesus, through his compassionate words and actions, tells us the truth. People are what matters, not the Law, not ideology. People. The welfare of human beings in the eyes of our Lord trumps everything. That is the meaning of the Lord's words, 'The Sabbath was made for man not man for the Sabbath.'
Read more »
November 02, 2020 - by Dn. Jeff Smith
The Rich Man has no taste or aptitude for Heaven. Like the wonderful story by C.S. Lewis, the Great Divorce, whose characters were in heaven but they couldn't recognize it. They could only see themselves.  The Rich Man stands jealous of Lazarus' possession of heaven, and He wants Lazarus to come serve him in hell. It's unbearable for him to see happy someone he held in contempt. This is his internal state. 
Read more »

Read more sermons
from St. Mary Church »