Neighbor Outreach
"For I was hungry and you gave Me food; I was thirsty and you gave Me drink; I was a stranger and you took Me in; I was naked and you clothed Me; I was sick and you visited Me; I was in prison and you came to Me…Assuredly, I say to you, inasmuch as you did it to one of the least of these My brethren, you did it to Me."
(Matthew 25:35-36, 40)
Overview:
Build on our relationships within the St. Mary community by working together to provide food to our neighbors on a consistent basis.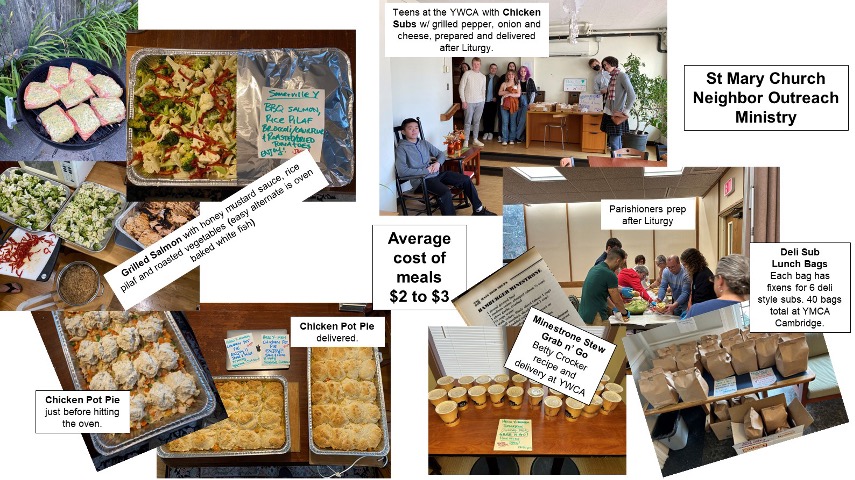 Background:
The St. Mary community has been recognized over its many years for a warm welcome to all those who step through the doors. Even as we have grown to include a larger and more diverse membership, that familiar warm embrace continues to be our signature quality. In that same vein, the St. Mary community has historically extended its love to the surrounding community by offering security to those in need of food, essential goods, shelter, and fellowship. One only needs to walk out the door of the church building to see that we are located at the center of a city neighborhood that calls for exactly this kind of attention.
Building on our past undertakings, Neighbor Outreach is designed to provide a more consistent response. Administered by the Neighbor Outreach Committee, members of St. Mary prepare and deliver "home cooked", low-cost, healthy meals or fresh groceries to our neighbors. The Cambridge YWCA (Tanner Residence and Renea's Place), the Cambridge YMCA and the Somerville YMCA are the current neighbors being served by the ministry. Each of these facilities has residents who participate by accepting meals. The focus of the ministry is to provide food on a regular basis to provide some stability to the residents and build their trust. The Committee looks to individual parish members, families, or organizations to commit to preparing and delivering meals to these neighbors. There are many ways to participate, and the Committee is flexible and committed to helping make it work regardless of cooking skill or financial position! When people work together to help others, the natural consequence is building bonds with each other and lifetime memories.
Ways to Participate:
Parishioner A: Chooses to make donation to St. Mary and directs the money to Neighbor Outreach. Donation is listed on the parishioner's year-end financial summary.
Parishioner B: Chooses to shop and pay for the groceries, cook, and deliver the meals. The receipt for cost of groceries is retained for the parishioner's IRS filing.
Parishioner C: Same as "B" but chooses to be reimbursed for cost of groceries. Receives monetary reimbursement from the Neighbor Outreach/St. Mary bank account.
Meals to Neighbors:
The stories and appreciation from those who have received the meals to date are heartwarming. They will not be recounted here because we hope that you will experience them yourselves directly. Since its inception the ministry has steadily increased its impact on the community.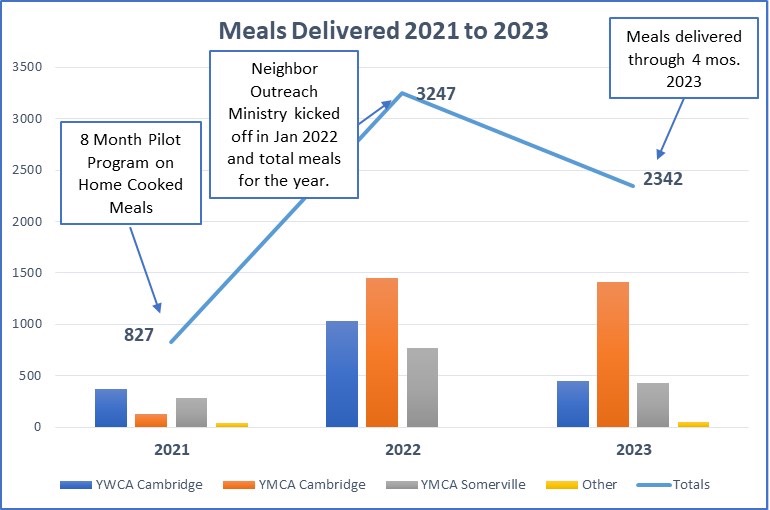 Contact Information
Please contact us with any questions or interest in participation:
You can make cash contributions to Neighbor Outreach on E-give.