Welcome to Our Parish
Dear Visitors, Friends, and Parishioners:
Glory to Jesus Christ! Glory forever!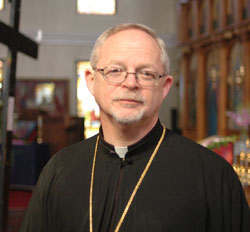 I am happy to welcome you to our website. Hopefully, you will leave here with a glimpse of the unique and beautiful community that is St. Mary's Orthodox Church in Cambridge, Massachusetts. Perhaps you will even accept our heartfelt invitation to visit us if you are ever in the Boston area.
The community of St. Mary's is ethnically diverse, warm, hospitable, and deeply spiritual. The most apparent reflection of this is in the remarkable variety of people who have chosen to make our parish their home.
There are many other telling signs:
The heart of the community is the celebration of the Eucharist.
The message preached and shared is the Gospel of Jesus Christ.
The liturgical life is rich. The chanters and choir are exemplary.
Our many organizations and ministries are composed of dedicated, God-fearing people. They contribute dynamically to the life of our parish community and beyond. We do not neglect the poor and needy, nor do we ignore the commandment of Christ to preach the Gospel to all "who have ears to hear."
Doing what we can, we persistently strive to be ever more faithful disciples in both hearing the Word of God and in obeying Him.
We are grateful to God for pouring out upon us His great and unfathomable blessings. We realize that it is our responsibility to share these blessings with the world around us. Thank you for taking a few moments of your valuable time to visit with us in this website. We pray that God will bless and keep you and yours now and forever.
Yours in Christ,
Fr. Antony