Our Parish Community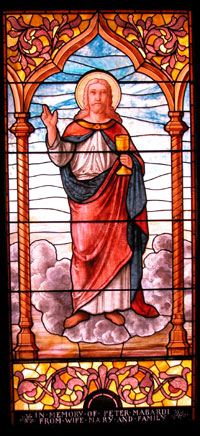 On Inman Street in Cambridge, St. Mary's Orthodox Church is an intriguing and complex religious institution. The community is characterized by an acceptance of diversity and eclecticism, an emphasis on the notion of the congregation as a family, and a deep commitment to the act of devotion.
Its religious tradition is of the Antiochian strand of Eastern Orthodoxy, but it is a pan-Orthodox church with an English language liturgy and a congregation comprised of Syrians, Lebanese, Greeks, Russians, Eritreans, Ethiopians, Ukrainians, Romanians, Bulgarians, Koreans, Chinese, Latinos, and American-born converts.
Father Antony Hughes, Saint Mary's priest, was himself a Southern Baptist who converted to Orthodoxy while studying at Oral Roberts University. This Orthodox congregation worships in a white clapboard New England-style meeting house built in 1821, formerly a Universalist church. Its spectacular stained glass windows constitute the largest collection of pre-Civil War stained glass in the Northeast.
Article copyright © 1996-1999: The Pluralism Project.
President and Fellows of Harvard College
and Diana Eck All rights reserved.
Used with permission;
edited for use in this site.