2016 Chinese New Year Missions Breakfast Sunday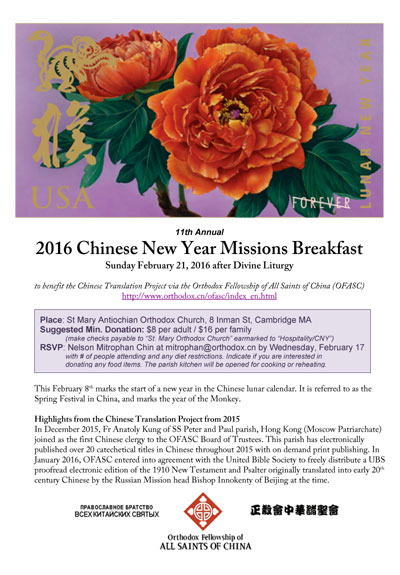 The 11th Annual 2016 Chinese New Year Missions Breakfast will be held on Sunday February 21, 2016 after Divine Liturgy to benefit the Chinese Translation Project via the Orthodox Fellowship of All Saints of China (OFASC)
Place: St Mary Antiochian Orthodox Church, 8 Inman St, Cambridge MA
Cost: Suggested min. donation $8 per adult / $16 per family (checks can be made payable to "St. Mary Orthodox Church" earmarked to "Hospitality/CNY")
RSVP: Nelson Mitrophan Chin at mitrophan@orthodox.cn by Wednesday February 17.
February 8th marks the new year in the Chinese lunar calendar, referred to as the Spring Festival in China, and marks the year of the Monkey.
In December 2015, Fr Anatoly Kung of the Hong Kong parish of SS Peter and Paul (Moscow Patriarchate) has joined as the first Chinese clergy to the OFASC Board of Trustees. The Hong Kong parish has electronically published over 20 catechetical titles in Chinese throughout the year 2015 with on demand in print publishing. In January 2016, OFASC entered into agreement with the United Bible Society to freely distribute a UBS proofread electronic edition of the 1910 New Testament and Psalter originally translated into early 20th century Chinese by the Russian Mission head Bishop Innokenty of Beijing at the time.