The Light At the End of the Tunnel: Dealing with the Oncoming Train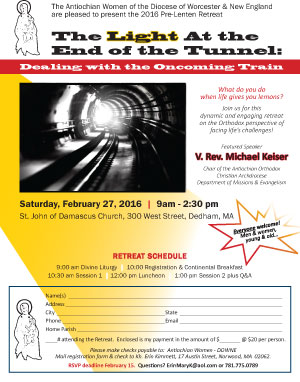 The Antiochian Women of the Diocese of Worcester & New England are pleased to present the 2016 Pre-Lenten Retreat
Featured Speaker: V. Rev. Michael Keiser, Chair of the Antiochian Orthodox Christian Archdiocese Department of Missions & Evangelism
Saturday, February 27, 2016 | 9am - 2:30 pm
St. John of Damascus Church, 300 West Street, Dedham, MA
What do you do when life gives you lemons? Join us for this dynamic and engaging retreat on the Orthodox perspective of facing life's challenges!
RETREAT SCHEDULE
9:00 am Divine Liturgy
10:00 Registration & Continental Breakfast
10:30 am Session 1
12:00 pm Luncheon
1:00 pm Session 2 plus Q&A
Everyone is welcome! Men & women, young & old!
RSVP by February 15. Questions? Contact Erin at ErinMaryK@aol.com or 781.775.0789!