2018 Learning in Lent Series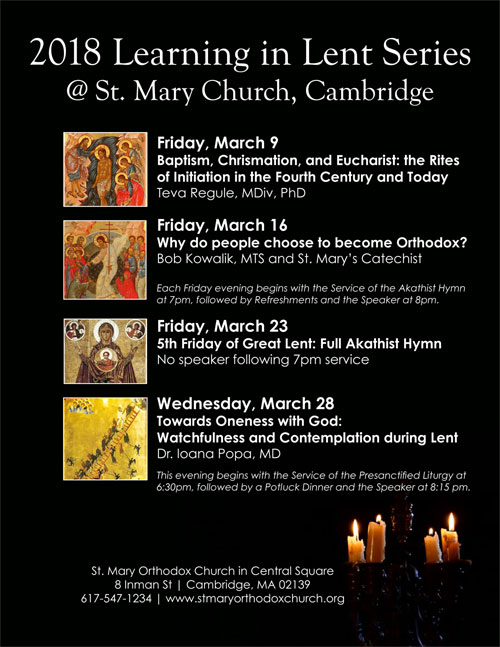 We invite you to join us on the Fridays of Great Lent at St. Mary Church in Cambridge for the 2018 Learning in Lent Speaker Series:
Friday, March 9
Baptism, Chrismation, and Eucharist: the Rites of Initiation in the Fourth Century and Today
Teva Regule, MDiv, PhD
Friday, March 16
Why do people choose to become Orthodox?
Bob Kowalik, MTS and St. Mary's Catechist
Each Friday evening begins with the Service of the Akathist Hymn at 7pm, followed by Refreshments and the Speaker at 8pm.
March 23
5th Friday of Great Lent: Full Akathist Hymn
No speaker following 7pm service
Wednesday, March 28
Towards Oneness with God: Watchfulness and Contemplation during Lent
Dr. Ioana Popa, MD
This evening begins with the Service of the Presanctified Liturgy at 6:30pm, followed by a Potluck Dinner and the Speaker at 8:15 pm.