Special Services during the Dormition Fast
Watch Our Services Online
If you are unable to join us in person, please join us online through our live broadcast!
Dormition Fast Begins on August 1st
Join us for special weekday services as we prepare for and celebrate our Feast Day at St. Mary's!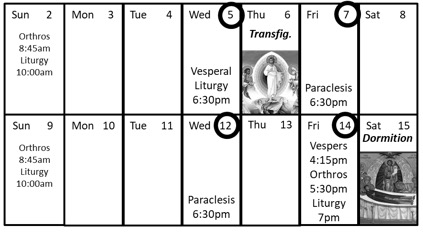 The Theotokos, the Virgin Mary, was "blessed amongst women," and she was chosen "to bear the Savior of our souls." Orthodox Christians consider her to be the Queen of all the saints and angels. Knowing that she is eternally present at the throne of God interceding for mankind, we pray for her love, guidance, and protection. Every year the Orthodox Church sets aside the first fourteen days of August in honor of the Virgin Mary. This fast period is climaxed on August 15th, when the Church gathers to celebrate the Great Feast of the Dormition (Falling-Asleep) of the Theotokos.
To attend any of these special weekday services, sign up on EventBrite:
The password for all events is "0815".
About the Paraklesis Service
During the fast periods throughout the year, the Church encourages us to participate more in prayer, almsgiving, and (of course) fasting. During the Dormition Fast (August 1 - 14) specifically, we have the opportunity to pray the Paraklesis service to the Theotokos. The Paraklesis is a service of supplication for the welfare of the living. It is addressed to a Saint, whose intercessions are sought through the chanting of a supplicatory canon and other hymns. The most popular Paraklesis Service is that in which the supplicatory canon and other hymns are addressed to the Most Holy Theotokos.

If you would like to add some names of living loved ones to the Paraclesis prayer list, please contact Fr. Antony.
About the Dormition Vigil
The Feast of the Dormition of the Theotokos is our patronal feast day here at St. Mary's. For the two weeks before the Feast, until August 14, we fast in preparation for the Feast.
On Friday, August 14, we will celebrate our Patronal Feast Day with Vespers at 4:15 pm, Orthros with Lamentations at 5:30 pm, and Festal Divine Liturgy at 7:00 pm.