Concert: 'The Twelve Days of Christmas' on Jan 6, 2018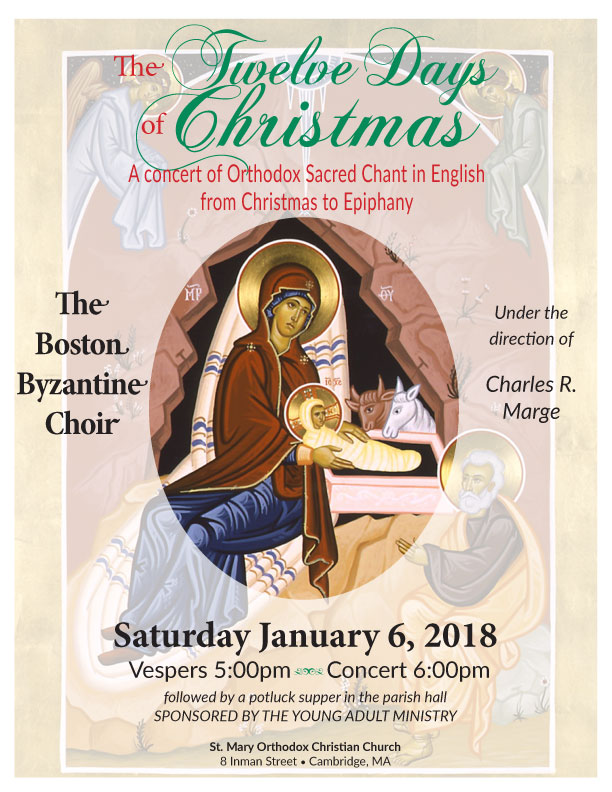 The Boston Byzantine Choir under the direction of Charles R. Marge presents:
The Twelve Days of Christmas
A concert of Orthodox Sacred Chant in English
from Christmas to Epiphany
Saturday January 6, 2018
Vespers 5:00pm
Concert 6:00pm
followed by a potluck supper in the parish hall

St. Mary Orthodox Christian Church
8 Inman Street
Cambridge, MA
About the Concert:
The Boston Byzantine Choir will take us on a journey of sacred chant through the 12 Days of Christmas as celebrated in the East starting with the Nativity and ending with Epiphany. Each day from Dec 25 to Jan 6 brings its own hymnography rich in the theology of the season, beautifully expressed through the Byzantine musical tradition.
For the past 25 years, the Boston Byzantine Choir has endeavored to make Byzantine chant and the Orthodox Christian faith accessible to the English-speaking world. The choir grew out of the chanting tradition of St. Mary's Orthodox Church in Cambridge, Massachusetts and has chanted at services and performed in concerts and festivals in New England, the Mid-Atlantic, Montreal and California. The Boston Byzantine Choir is best known for its five recordings of Byzantine Chant in English: FIRST FRUITS, MYSTICAL SUPPER, THY PASSION, THY RESURRECTION, and LENTEN JOURNEY. This program, which includes the New England premiere of new Byzantine chant compositions in English by Dr. Jessica Suchy-Pilalis, will form the basis for a sixth recording entitled TWELVE DAYS to be released later in 2018.
Schedule:
Great Vespers - 5pm
Concert - 6pm
Dinner - 7pm
The concert will be preceded by a Vespers (evening prayer) service for the feast of St. John the Baptist at 5pm and followed by a pot-luck dinner at 7pm.
Links: