Building Social Justice Ministry Teams in the Church
Building Social Justice Ministry Teams in the Church
On Saturday, September 16, 2017, Chaplain Patrick Tutella of Caring Connections in Corrections presented a comprehensive one day training program to prepare lay people in our parish for social justice ministry within the context of Prison Ministry.
Building Social Justice Ministry Teams in the Church
---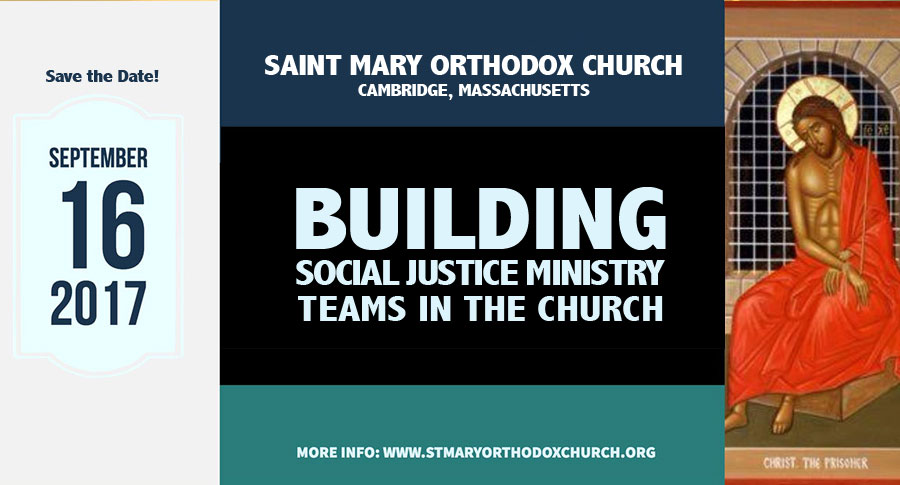 Parish Care Team Training
Saturday, September 16, 2017
Saint Mary's Orthodox Church
8 Inman Street
Cambridge, MA 02139
Registration by telephone, e-mail, or Facebook before September 6, 2017
only $10 or Register at the door $40
We send a special thank you to His Grace Bishop John and the Antiochian Diocese of Worcester and New England, who provided a generous gift to encourage participation by offering pre-registrations for only $10. (Must pre-register by September 6, 2017)
Who we are
Directed by (Chaplain) Patrick Tutella, Caring Connections in Corrections is a socially driven company that seeks to build healthy ministry connections between the Church and those who are in need in the community. Parish Care Team Training is offered as a comprehensive one day training program to prepare lay-people for social justice ministry in the local parish.
We believe that the Church icons Christ when we open our arms to neighbors who are disenfranchised and outcasts in the community. (Matthew 25:40)
You should attend this training if you...
are looking for an opportunity to serve in a meaningful way in your parish
desire to grow in your love for Christ and neighbor
want to make a difference in another person's life
This training will benefit you and others if you...
enjoy volunteering with a team instead of serving alone
have compassion for people who have committed crimes and people who have been victims of crime
believe in social justice ministry
Why we do it
Parish Care Team Training addresses two major concerns.
Thousands of people in prison are being released to our neighborhoods without anyone helping them transition.
Substantial numbers of Orthodox Faithful are looking for opportunities to invest their time, treasure and talents in the community through volunteer service at the parish level.
What we do
Focusing on aftercare in jail and prison ministry - Parish Care Team Training assists local parishes to fulfill their calling to be Christ in the community by developing ministry teams who:
Can identify the special concerns of marginalized citizens
Are educated about mass-incarceration and reintegration issues
Engage in active listening
Emphasize the "Ministry of Presence" to help former prisoners transition from incarceration back to the community.
The principles and tools that are acquired through this training can be applied to all of the social ministries mentioned in Matthew 25:31-46.
To answer your questions, for more information or to register over the telephone call Chaplain Patrick Tutella at 484-793-5681 or send an e-mail to me at: info@cccorrections.com