Concert & Meatfare Dinner / Dance - March 2, 2019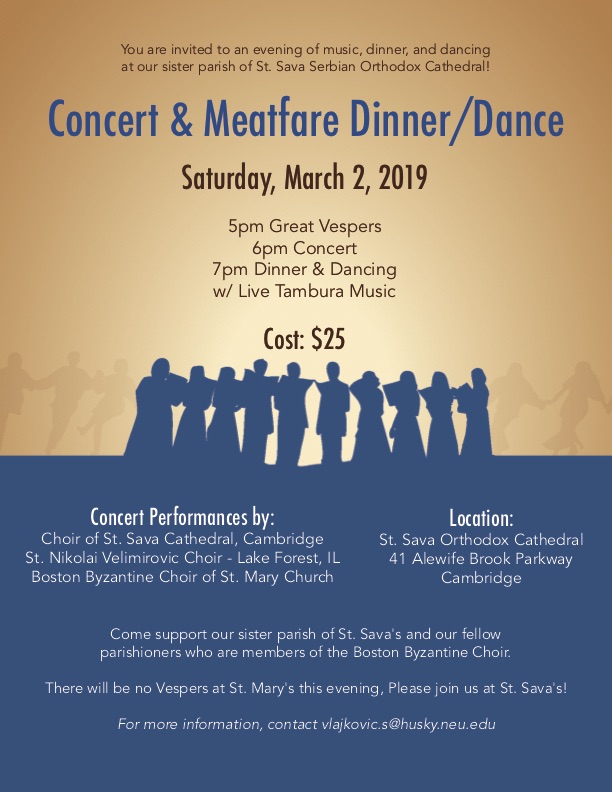 You are invited to an evening of music, dinner, and dancing at our sister parish of St. Sava Serbian Orthodox Cathedral!
Saturday, March 2, 2019
RSVP:
Please let us know you are coming on Facebook
https://www.facebook.com/events/804782886543186/
Schedule:
5pm Great Vespers
6pm Concert
7pm Dinner & Dancing w/ Live Tambura Music
Cost: $25
Concert Performances by:
Choir of St. Sava Cathedral, Cambridge
St. Nikolai Velimirovic Choir - Lake Forest, IL
Boston Byzantine Choir of St. Mary Church, Cambridge
Location:
St. Sava Orthodox Cathedral
41 Alewife Brook Parkway
Cambridge, MA
Come support our sister parish of St. Sava's and our fellow parishioners who are members of the Boston Byzantine Choir.
There will be no Vespers at St. Mary's this evening, Please join us at St. Sava's!
For more information, contact vlajkovic.s@husky.neu.edu