Orthodox Christian Witness Program: Spiritual Pilgrimage
The Orthodox Christian Witness Program: Spiritual Pilgrimage - will hold 3 Retreats at St. Mary's Church in Cambridge on the topic of "Christian Hospitality - True Self and the Inner Kingdom" on Saturday Jan 26, Feb 16, and March 23 from 9:00am-3:30pm. The retreats are an opportunity to reflect on your personal journey with God, expand your inner awareness, deepen faith and your contemplative and/or prayer practices.
The retreat will use small presentations, personal reflections, small and large group discussions. Attendance to all three retreats is not required, although it could be beneficial. Although a donation of $35 per retreat is suggested (or any other amount), the donation is not a requirement for participation. Coffee, tea and a light breakfast will be provided (lunch is not provided).
To register or for questions, please email at popalifecoach@gmail.com or call 617-274-8336.
Spring 2019 Units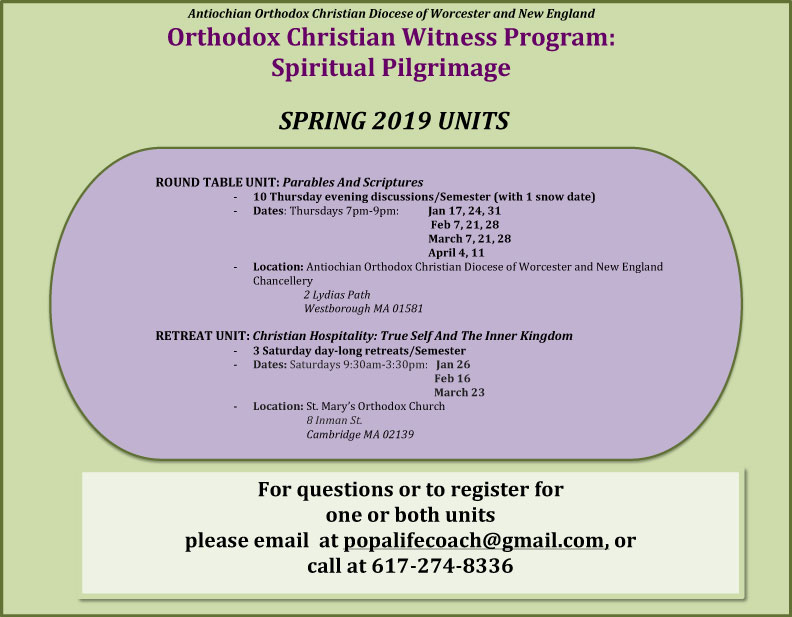 About the Witness Program
Fall 2018 - Spring 2020
Antiochian Orthodox Christian Diocese of Worcester & New England
The Orthodox Christian Witness Program: Spiritual Program, is a new program sponsored by the Diocese of Worcester & New England offered to clergy, laity, chaplains, counselors, therapists, physicians, parents, and Christian educators. The program will have 8 units over 4 semesters led by His Grace Bishop JOHN, D. Min.; Archpriest Antony Hughes, M.Div.; Ioana Papa, MD; Richard Robbat, PhD; Sebastien Falardeau, Ph.D candidate.
The purpose of the program and journey is an opportunity for anyone interested to learn, to reflect, and to be transformed through the Orthodox Christian Faith in preparation for various ministries.
The spiritual pilgrimage is an interdisciplinary approach to create a cadre of leaders in the church. It is aimed to empower and equip Orthodox Christians to nourish and share the faith in the 21st century by:
Offering frameworks and models of encountering God.
Offering frameworks and tools in order to enhance and facilitate inner spiritual growth.
Using Orthodox Christian theology and contemporary perspectives to encounter God.
Gaining insights and methods to witness and to share the faith.
Enhancing leadership skills in order to contribute effectively in parish ministry and to the world at large.