March 2018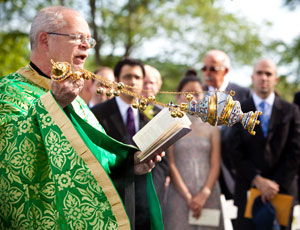 Dear Brothers and Sisters in Christ,
Christ is in our midst!
One thing continues to move and amaze me more than anything else and that is the depth of God's love for us and all his creation. We used to sing the song, "Jesus loves the little children, all the children of the world," when I was young. I did not realize then how very profound it was.
There is a story about the eminent Protestant theologian Karl Barth who was asked this question: "If you could summarize the whole of your teaching into one sentence, what would it be?" He answered, "Jesus loves me this I know, for the Bible tells me so."
Thus says the Lord, the one who created you, who formed you:
"Do not be afraid, for I have delivered you. I have called you by your name, and you are mine. When you pass through the waters, I will be with you; and through the rivers, they shall not overcome you. When you walk through the fire, you shall not be burned, and the flame shall not consume you. You are precious in my sight, and I love you. Do not be afraid -- for I am with you." - Isaiah 43:1-6
It is good to remember this as we proceed through Lent and are faced with the temptation to be hyper-critical of ourselves (something even God does not do!). "If God were to mark iniquities, who could stand?" writes the Psalmist (Psalm 103:3). The answer is none of us and that's ok because he doesn't keep a record of what we do wrong.
Enter every moment then as something utterly fresh and new. Let go of what has gone before and dare to believe that the only thing that matters to God is what we do with the moment we inhabit right now. And then live in it boldly and creatively, giving thanks and rejoicing always that God is the God of new beginnings, always ready to receive us as we are because he knows who we really are. He knows our true name!
With deep love and affection,
Fr. Antony